I love arriving home and finding a package for me. Especially when it is something I have been waiting for. And what was so gloriously in my mailbox when I got home, my lovely stalked friends? What was so cleverly disguised in a plain, brown, cardboard box to keep local knitters from raiding my mail and facing federal charges? Why it was none other than The Book! Yes,
that
one. The one and only
Harlot
Book. I can now bring stalking to a whole new level.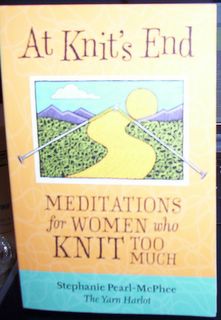 Mine all mine! Glee!

I have already read quit a few pages. Witty, insightful and just down right Harlot good. So much so that I can even forgive the disparaging remark against crochet on page 45. *Ahem* Yeah, it stings a bit, but it's Steph. She's famous. She's my polar opposite. That makes it good stuff. Besides, I know most knitters think crochet is beneath them. I just don't give a rat's ass about that. Because I love to crochet just as much as I love to knit and paint. AND Because I have The Book. There are knitters out there that are being told they have to wait until May to get a copy.
You may envy me now.
Hope everyone has a great day!!